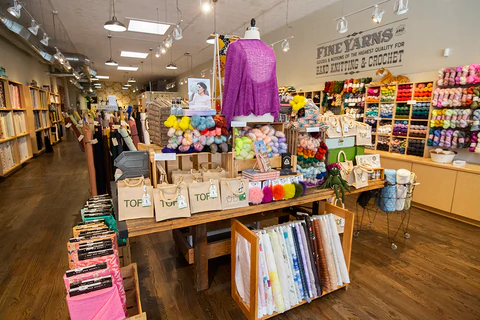 Fancy Tiger Crafts is a revolutionary shop in Denver, Colorado that specializes in craft supplies and classes for the modern crafter. Our vision is to inspire people to reach their crafting potential through modern and sustainable supplies and quality instruction.

Fancy Tiger opened on June 16th, 2006 at 1 S. Broadway in Denver, the brain child of Jaime Jennings and Amber Corcoran. This tiny DIY boutique paved the way for the recent revitalization of the Broadway shopping district.
After 15 years of ownership, Jaime and Amber wanted to create a business that was more focused on equity and inclusion and helped transition the store to a employee-worker owned co-op,
We believe that making things by hand makes people feel better and that if more people made things, the world would be a better place!
Fancy Tiger Crafts is excited to begin bringing our love of crafting online to more makers from all over the world. With this asynchronous learning platform, we hope to teach and inspire many more crafters throughout the world and excited to see everyone's journey along the way!

Classes have been created for our most popular crafts, including sewing, knitting, crochet and spinning! We hope that you will be able to find our next hobby and enjoy the process with all of us here in Denver, Colorado!